Rush-Lusk
Paul first ran in the 2014 local election on three broad themes of accountability, representation and community.
Paul's electoral area includes Portrane, Donabate, Rush, Lusk, the Naul, Garristown, Oldtown, Ballyboughal and Balscadden.
Having lived in the local area all his life, one of Paul's main concerns is the ongoing threat of coastal erosion in Portrane, and the need for the council and state agencies to put in place long term sustainable measures to protect residents, businesses, and Portrane beach – a vital community, tourism and environmental amenity which forms part of the Rogerstown Natura 2000 international site.
As a progressive activist for many years, Paul believes that through collective action it is truly possible to move towards a society and economy organised for the benefit of not just the few, but the many.
Volunteer with Paul
Get involved to help Paul's work in Rusk-Lusk.
Keep in touch with the SocDems
Sign up for regular updates on our work.
Join the Social Democrats
Make your commitment to a better future by becoming a member today.
I welcome the Housing Department's plans to move forward on our first affordable purchase scheme in Lusk, to be located at Chapel Farm Dun Emer, given the number of people who contact me regarding their need for affordable housing in our communities.

Progress is ongoing on the council owned mixed tenure sites at Donabate, Church Fields and Cappagh, through the Project Talamh process.

We need to use public land for public gain, particularly in relation to housing, transport and recreation. To this end, we must look to significantly expand the Council's land-holding, in conjunction with the Land Development Agency. Assembling public land banks is one of the key tools to addressing the chronic housing situation.

In particular the Ó Cualann housing model has been very successful in delivery housing at low cost in Poppintree in Dublin.

I have called on Council management to work closely with Ó Cualann, as it is a prime example of how local Councils can facilitate and promote affordable housing. Ó Cualann were able to sell houses for €140,000. This should be available in all our towns and villages in Fingal. ... See MoreSee Less
Stewart O Neill Yes totally agree! I've proposed that the council plant a native woodland in the publiclly owned field up the hill behind Seaview, and lay out a forest park there for the future.
Yes paul housing is important but we also need to start planting a few million trees to try and sustain this little planet of ours sits where housing aint going to go should be filled with trees
Load more
I met @RashidaTlaib in Washington in March to talk about our work. She's an incredible woman, a courageous fighter for justice & human rights. I have so much respect for her bravery & refusal to be silenced.. sending #solidarity to Rashida & her family in the occupied West Bank❤️
Twitter feed video.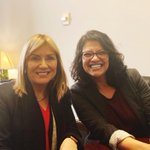 UK politics 2015 onwards is just a succession of centrists discovering to their absolute bewilderment that they can't simply instruct Jeremy Corbyn to resign.
Good to hear that Plaid, SNP and Conservative MPs have responded positively to Jeremy Corbyn's Caretaker Government offer by confirming that they are willing to meet. We have to prevent the dangerous No Deal Brexit that Johnson is so recklessly willing to inflict on our country.
So what is the story here? Were grants totaling more than €6 million approved without sufficient funding in place? This is really unacceptable. https://t.co/BFjdX1DFTG
Load More...