Local Election Candidate for Balbriggan
Garrett is the founder and executive director of the educational charity Show Racism the Red Card in Ireland.
The Charity engages 20,000 young people per year to challenge racism by providing educational resources and developing intercultural activities to encourage people, including young people, to challenge racism.
Previously Garrett worked as a Social Care Worker, Probation Officer and an Outreach Worker with the Dublin Simon Community. Garrett assisted people in accessing services to help prevent and move out of homelessness.
Garrett has lived in Balbriggan since 2004 with his wife Iryna and their two children. He has been heavily involved with the Cardy Rock resident's association, working alongside other members to improve the area and represent the interests of the estate.
Garrett has campaigned on issues such as the anti-water charges, the Marriage Equality referendum and most recently the Repeal the 8th campaign. He is member of the local tidy towns committee and is involved in other community groups in the area.
In his spare time Garrett hangs out with his family, walks his dog Bardik, plays five aside (badly) and still purchases and reads the newspaper.
Read more
Volunteer with Garrett
Get involved to help Garrett's work in Balbriggan.
Keep in touch with the SocDems
Sign up for regular updates on our work.
Join the Social Democrats
Make your commitment to a better future by becoming a member today.
Fingal County Council are hosting a consultation on the www.http://dublinclimatechange.ie plan, which closes on 25th March. I attended the information session tonight at the Bracken Court Hotel.

Following that, I made a submission to the plan-
consult.fingal.ie
My key points in relation to the climate plan are in the areas of Bus transport and also cycle lane provision.

Bus Provision

Balbriggan has increased in population from 6,000 to 24,000 in 20 years but the bus service we have today is still the bus service that was in place 20 years ago. Dublin Bus and Bus Eireann make the best with what they can do but more investment is needed in public transport. Fingal Council should not be permitting large scale housing projects without commitments from the NTA to significantly improve the bus service. At the same time as this consultation, Fingal Council is supporting suburban sprawl with the Castlelands Area Plan, which will allow for up to 1,000 houses and this is in addition to 600 houses being built at Taylor Hill.

Bus Connects fails miserably to provide any kind of service in Balbriggan.

So what is Fingal County Council doing to ensure provision of public transport?

Cycle Lanes

In Balbriggan, there are 5,000 young people in 5 secondary schools, yet very few cycle. While Fingal does not provide public transport, it can incentivise and promote cycling. It should appoint a cycling officer for each electoral area to develop a plan to improve the number of cyclists throughout the county.

To support the promotion of cycling, the council has a crucial role to provide infrastructure. Too often, the provision of cycle lanes/ greenways is framed in terms of the tourism potential benefit as opposed to the transport and health benefits they can provide. If the council wants to make a real impact in changing habits, it will develop urban cycle lanes within towns and not just between them. Dublin St, Drogheda, Harry Reynolds Road and everywhere between should have cycle lanes, even if it makes the roads one way.

It is bizarre that the Harry Reynolds Road constructed just over 15 years ago is named after a locally based world champion cyclist, yet does not have a cycle lane.

Inserting cycle lanes, proper cycle lanes, throughout Balbriggan could have positive impact in the regeneration of the town and serve to create a more attractive town centre for which people can congretate. This should be done in an integrated way alongside the implementation of what should be the Our Balbriggan plan. ... See MoreSee Less
Dublin's four local authorities have joined together to develop Climate Change Action Plans in response to the climate change challenges facing Dublin
Wider roads are needed for cycle lanes
Load more
Vibrant discussion ensues on the need for more joined up thinking on public transport #makeSwordsPurpler
Twitter feed video.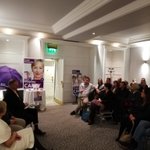 Great attendance at the launch of Tracey Carey's local election campaign for the Swords ward. @TraceyCareyA @SocDems
Twitter feed video.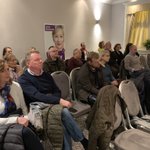 Load More...