Local Area Rep for Moate and Athlone, Westmeath
Karl is an experienced campaigner, having been a former Chairperson of NUI Galway Students' Union and also through involvement with the Union of Students in Ireland. He is a graduate of both NUIG and DIT, having obtained a BA in Political Science & Legal Studies and a MA in Public Affairs & Political Communication.
Karl has had an interest in politics all his life with a particular interest in education. He believes that everyone has the right to access good quality education and training, believing it is a core factor to any progressive society. He is deeply passionate about investing in rural infrastructure, supporting SMEs and political reform.
He became involved with the SocDems in 2015 because of their no-nonsense approach to politics and serves as chairperson of his local branch.
He is also an avid rugby fan, and has been involved with his local club, Midland Warriors RFC, since a young age.
Read more
***National Strategy to Reduce Suicide 2015-2020***
The vision of Connecting for Life, Ireland's National Strategy to Reduce Suicide 2015-2020, is "an Ireland where fewer lives are lost through suicide and where communities and individuals are empowered to improve their mental health and wellbeing".

Connecting for Life sets out the actions that will be taken to reduce suicide and self-harm in Ireland over this five year period and the expected outcomes from the implementation of these actions.

The specific goals of the National Strategy are:

To facilitate a better understanding of suicidal behaviour, mental health and wellbeing.
To supporting communities capacity to prevent and respond to suicidal behaviour.
To target approaches to reduce suicidal behaviour and improve mental health amongst those vulnerable to suicide.
To enhance accessibility, consistency, care pathways and integration of services for people vulnerable to suicide behaviour.
To ensure safe and high quality services for people vulnerable to suicide.
To reduce and restrict access to means of suicidal behaviour.
To improve surveillance, evaluation and high quality research relating to suicidal behaviour.
Unfortunately, over the past number of years many people in Laois, Offaly, Longford, Westmeath, Louth and Meath have either been directly or indirectly affected by suicide, which has had a devastating effect on families and communities. Whilst it is recognised that a lot of work is being done by individuals, groups and organisations, there is still more that can be done to promote good mental health, prevent future suicide deaths and support those who are bereaved by suicide.

Therefore in line with the vision, goals and objectives of the National Strategy, the HSE Midlands Louth Meath, in partnership with community, voluntary and statutory organisations, is now seeking to develop a Regional Suicide Prevention Action Plan for the counties of Laois, Offaly, Longford, Westmeath, Louth and Meath. The development process commenced in April 2017 and will be completed in January 2018 with the launch of the Regional Suicide Prevention Action Plan.

A key part of the development of the Action Plan is providing an opportunity for as many people as possible to have their say regarding what should be included. Individual members of the public, service users, service providers and a variety of interest groups will be consulted with. This will ensure that the national policy is translated into local actions that are relevant, consistent, efficient and effective.

www.hse.ie/eng/services/list/4/Mental_Health_Services/connecting-for-life/Strategy-Implementation... ... See MoreSee Less
Load more
Karl and Emmett #Together4Yes and donated their yes badge. TY @Mr_Max_Louie @emmetryan_ #HomeToVoteYes @Together4yes
Twitter feed video.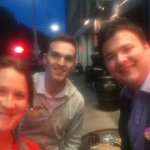 "An obligation on the Gardai to provide safety to the people of the State." Maybe pay them a wage that reflects that huge responsibility.
#TallaghtTalks

Tallaght Talks is an event myself and Senator Lynn Ruane will host at the Plaza hotel on December...
Log In or Sign Up to View
See posts, photos and more on Facebook.
fb.me
Load More...