Naas
Bill is vice chair of Naas Tidy Towns and is married with three children.
Bill has lived in Naas for 20 years and is chair of the Naas Greenway project which is working to have cycle and walking routes connecting all housing estates to all schools and sports clubs in the area. He works as a ship's captain and marine pilot.
Bill is also:
• Vice Chair of Naas Access Disability group
• Board member at St Corban's Boys School and the Community National School
• Coach at Naas AC and Nass GAA
Read more
Volunteer with Bill
Get involved to help Bill's work in Naas.
Keep in touch with the SocDems
Sign up for regular updates on our work.
Join the Social Democrats
Make your commitment to a better future by becoming a member today.
If you are interested in Naas local Area Plan and why it is been rewritten again.
Sustainable planning is core to this.

www.opr.ie/wp-content/uploads/2019/06/OPR-recommendations-Naas.pdf ... See MoreSee Less
Bill. Naas is a Town that is all wrong from a sustainable planning perspective, OPR are spot on in their submission, what surprises me however is that the recent regional spatial and economic plan designated Naas as a key town. The RSES is in essence the regional aspect of Project 2040 which they state at its core is sustainable development. Naas is sprawled out and this draft plan and current and proposed developments don't do much really to address this. It may take a generation to address these legacy decisions of the past. Good to see you are at least making an issue of it 👍
"Poor emphasis on public transport, walking and cycling" I thought that was Kildare CoCo's moto? Back to the drawing board, thankfully!!
Thank God someone else sees what we have been saying for years! More town CENTRE developments
The last Naas Local Area Plan expired on 31 December 2017, its taken them almost 2 years to get it to this stage, so at this rate it will be 2021 before we get a new plan. The Council Officials seem more intereated in talking about the failure in domercy, then councilers don't rubber stamp the plans put in front of them than planning for the future of our town. I'm sure we will be told that the plan published was based on the advise of planning professionals,
Load more
"If the Netherlands shows anything, it's that we have to set our standards higher and actually provide physical separation between bicycles and cars. If a cycleway is not built for all ages and abilities, then it's really of no use."

Read (and hear) more: https://t.co/LNs4Kb8m7Y
Twitter feed video.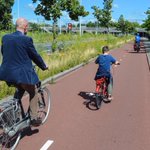 How to Be Unhappy:

-stay inside all day
-move as little as possible
-spend more than you earn
-take yourself (and life) too seriously
-look for reasons why things won't work
-always consume, never contribute
-resent the lucky and successful
-never say hello first
-be unreliable
Reminder of what people are calling the "radical, extreme-left agenda":

✅ Medicare for All
✅ A Living Wage & Labor Rights
✅ K-16 schooling, aka Public Colleges
✅ 100% Renewable Energy
✅ Fixing the pipes in Flint
✅ Not Hurting Immigrants
✅ Holding Wall Street Accountable
Kildare County Council announces three Education Bursary Schemes for 2019:
https://t.co/kYwzM179db
Load More...