Trim Councillor and General Election Candidate for Meath West
Having spent several years working with an Irish charity overseas, Ronan returned home to Meath and became an English and History secondary school teacher at St Patrick's Classical School, Navan.
His focus as a teacher has always been on helping young-adults become the best they can be, and he also co-ordinates the cross-country and athletics teams at school.
Back living in Trim with his wife and two young children, Ronan has a BA from Galway and MSc in Sustainable Development in Dublin.
"I look forward to meeting people and discussing how social democratic policies will help them and their kids into the future."
"I look forward to meeting people and discussing how social democratic policies will help them and their kids into the future."
Volunteer with Ronan
Get involved with Ronan's work in Meath West.
Donate to Ronan
Help Ronan's campaign by making a contribution.
Keep in touch with Ronan
Sign up for regular updates on Ronan's work.
Watch Ronan explain why he joined the SocDems
The Social Democrats offer something different. We are a party with big ambitions to represent the Irish people.
Robert Mugabe passed away last week. Leader of Zimbabwe from 1980 to 2017. From revolutionary hero to despot dictator.

I remember visiting in Zimbabwe as part of a study visit back in 2009. We got to meet lawyers and human rights workers who operating in an atmosphere of fear, despite the power sharing government that had finally partly helped take some of Mugabe's powers.

The people were stoic, warm and welcoming.

A few days before I left I found some Zimbabwean dollars that in the years previous had undergone inflation almost unparalleled where in 2007 they were printing 1 dollar notes and by 2008 it hit 100 trillion dollar (worth less than a laminate sheet it is held in) before they adopted the US$. That was a year prior to my visit and the tales heard were extraordinary.

Zimbabwe still has not properly entered a stable and flourishing democracy, a long way ago still but hopefully it won't ever turn back to the dark days of Mugabe. ... See MoreSee Less
He made everyone a millionaire
That place is screwed and South Africa is heading the exact same way.
Load more
Hey, Dave, there's a train coming and you're sitting on the tracks!!!

Dave: You want me to stand up out of my comfy chair and step off the tracks into that puddle??? What if you're wrong??? https://t.co/PNZCfB7oS3
#LE19 - We're so very proud of every one of our 58 candidates and their teams who campaigned their hearts out up & down the country.

Some candidates came very close to taking seats & that in itself is a fabulous outcome given that so many were running for the 1st time. #SocDems
Twitter feed video.

[email protected] has swung our 50-50 gender balance - we now have 10 women to 9 men!

19 councillors is a trebling of our local authority representation - working for #sustainablecommunities #LE19 #SocDems

https://t.co/BSdvxayfer
Meet your new councillor for Bantry - @HollyLeahCairns
Recount after recount - one vote in it! #LE19 #SocDems
Twitter feed video.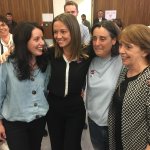 Load More...
"Dublin needs is a voice who represents us in Europe. It is Dublin's Time to Lead. Our journey from Dublin's Docklands to the heart of Europe starts now."