Local Election Candidate for Ashbourne
Originally from Finglas, Paul has lived in Ashbourne, Co Meath, for 18 years with his wife Sandra and son Conor.
Since moving to Ashbourne, he has been active in his local community; he stood as an independent candidate in the last local elections and has been involved locally in the Right2Water campaign.
Paul played football from schoolboys to senior level; he played for Tolka Rovers in the early 2000's and is now actively involved managing local schoolboy teams.
He is employed as a welder/steel fabricator in Dunboyne.
Volunteer with Paul
Get involved to help Paul's work in Ashbourne.
Keep in touch
Sign up for regular updates on the SocDems work.
Donate to Paul
Help Paul's campaign by making a contribution.
Meath Losing Millions in Local Property Tax Mess
• Failure to factor in Meath's population increase means Meath County Council is €3.5m worse off from Local Property Tax fund compared to similar counties.
• Meath has the lowest number of Council staff per head of population.
Meath is losing millions in funding each year thanks to an out-of-date way of distributing the Local Property Tax. According to the latest figures, €17.5 million was collected from Meath home-owners under the Local Property Tax in 2018. This goes into a central fund and is then allocated to local authorities. However, only €14m of the €17.5m collected in Meath was given back to Meath Co. Council.
One of the main reasons for the shortfall is because of the way each county's needs are assessed. The amount of money needed to run each county was worked out twenty years ago. Amazingly, the Department of Housing are still working off that same assessment today. Virtually no changes have been made to take account of significant population increases.
This has meant that counties such as Limerick, which has almost the exact same population as Meath gets €3.5 million more than the Royal County from the Local Property Tax fund. Kerry, with a population 50,000 smaller than Meath gets half a million euro more in funding. If Meath was assessed on the same basis as Limerick, then we could expect to be receiving an extra €3.5 million each year.
The failure to update how the allocation system works really disadvantages counties with high population growth over the past twenty years. Meath's population has grown by 85,000 or 78% in that time but we have not had the extra funds to match. It means that Meath Co. Council is short of funding for basic local services, which communities are starved of such as playgrounds, youth centres, libraries, community halls and CCTV.
What is more, with millions being lost in local property tax it is little wonder that Meath County Council has the lowest number of staff per head of population than any other Council in Ireland. And this means Meath County Council simply can't employ as many people as other counties for services such as planning, building inspection, illegal waste enforcement and housing estate management.
Paul Nolan, the Social Democrats Candidate in the Ashbourne local area, says "It's totally unacceptable that Meath loses out because the Department of Housing can't get the allocation system right. There must be a complete overhaul of how Local Property Tax funds are given out so that counties like Meath with high population growth don't continue to lose substantial funding that we desperately need." ... See MoreSee Less
But limerick has a city Paul but nevertheless you brought up a very valid point. Very impressive figures
Load more
Here's an interview with the @LittoralSpace podcast in which we talk #seed, #agriculture, the @SocDems & how those things brought me to politics. I hope theres some insight into what I'm about that can help you decide if I could represent you on @Corkcoco. #LE19 #WestCork https://t.co/8BtjHQY4hX
🗳️ 24th May 2019 is voting day for local elections #LE19 🗳️

☑️You don't have to be an Irish citizen
☑️You do have to be a resident
☑️You must be on the electoral register
☑️Fill in form RFA2 to get added.

Stop scrolling and check the register now: https://t.co/kFeKOEBnZL
Twitter feed video.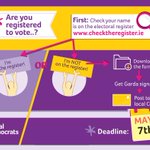 The @AthloneAdvert are running a brilliant initiative to help people get to know the candidates in the local election. Here is the one featuring me and some of my fellow candidates. I'd love to hear your feedback. #LE19 #newfaces #SocialDemocrats @ACR884 @WhatsOnInAthlon
Twitter feed video.
The start of the busiest week for the campaign so far! Out in @rte recording a one minute piece to camera this morning, and looking forward to the @SIPTU Ask the Candidates event in Liberty Hall later #gary4europe #breakingbarriers
Load More...